August President's Letter:
Hope you this finds all of you safe from the fires that are threatening our Northwest. This is such a hard time of year, when our forests are threatened and no relief is in sight. As I write this, some of our cutting friends are experiencing losses again. My heart breaks for you! One never knows how lucky they have it, until they see the devastation a forest fire can cause. At this point, I haven't heard of any of our cutters who have lost everything, yet, but I do know many of them have had to evacuate or be ready to.
I know everyone who was at the last CCC show is anxiously waiting what will be happening for our final show...
Final Show will be held in Ellensburg September 17, 18 & 19, 2015!
Thursday, Friday and Saturday
Banquet to follow Saturday night
I still can't guarantee what type of cattle we will cut, but I can tell you we will have a cutting!

There have been many many phone calls made, lots of different avenues sourced…
Jason found some, but then the cost of shipping them was too high. Found others, but owners didn't want them exercised. Cattle are a resource that is becoming increasingly hard to find during certain times of the year. We cutters are spoiled (me included). We all would love to cut fresh beef cattle, but if we are to stay in one location, that isn't always possible. This year due to the lack of irrigated pasture, the cattle I reserved in January, left the area. Currently, most cattle the size we need, are already headed to feedlots, once there, they can't be moved. We must be flexible to outside options or not complain. I had a questionnaire at the last show asking your opinion. It was close to a split vote, but the majority said Ellensburg with Holsteins. I had many people tell me that they will not come if we have Holsteins, I sincerely hope that will not be the case, Cascade needs your support. Those of us that practiced on Holsteins… they weren't that bad, just slow.
I have not given up on beef cattle. I will continue my search for "where's the beef?" If not for the whole show, for at least the futurity and hopefully the added money classes.
Our final show will have Futurity Classes as well as our Derby classes. Please bring your babies!
The banquet will follow our Saturday final show -time & price to be announced. The banquet will be held on the grounds in the Teanaway Hall. Final awards will also be presented the night of the banquet. As a reminder, to be eligible for awards, you must have ridden in 50% plus 1 of the CCC classes.
:: CLICK HERE TO VIEW PRESIDENT'S LETTER IN IT'S ENTIRETY.
---
Cascade Cow Cutters (CCC) is an NCHA Affiliate, located in Washington State. We are an active, growing association. We hold 12 to 14 NCHA shows yearly. A fresh cattle practice is generally held in the show pen on Friday preceding the show and a string cow is available all weekend.

CCC offers the full array of NCHA classes with added money in several of the classes. Non-approved classes are offered for the beginning horses and riders; as well as limited aged classes.

Cascade Cow Cutters club atmosphere is always upbeat, family oriented, yet competitive in spirit. At year end, we host a fabulous banquet with terrific awards! Come join our fun and cut with the best of the Northwest! Looking forward to seeing you at Cascade Cow Cutters next show!
---
THANK YOU TO ALL THE STALLION OWNERS FOR YOUR GENEROUS DONATIONS TO OUR STALLION AUCTION.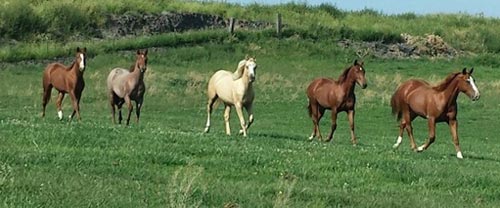 The Cascade Cow Cutters Stallion Auction is a fundraiser to provide an advertising venue for stallion owners, encourage breeding to cutting horses, stimulate cow cutting in the northwest and provide funds for awards.
Join our wonderful team
of sponsors!
Click here
to see all of our great sponsorship opportunities!
Come Cut With Us!!


Holiday Inn Express Ellensburg
(509) 962-9400
CLICK HERE FOR OUR SHOW SCHEDULE/ONLINE ENTRY FORM
PLEASE NOTE CLASS CHANGES! Be very careful when entering online that you choose the correct $15,000 class since there are now 3 of them.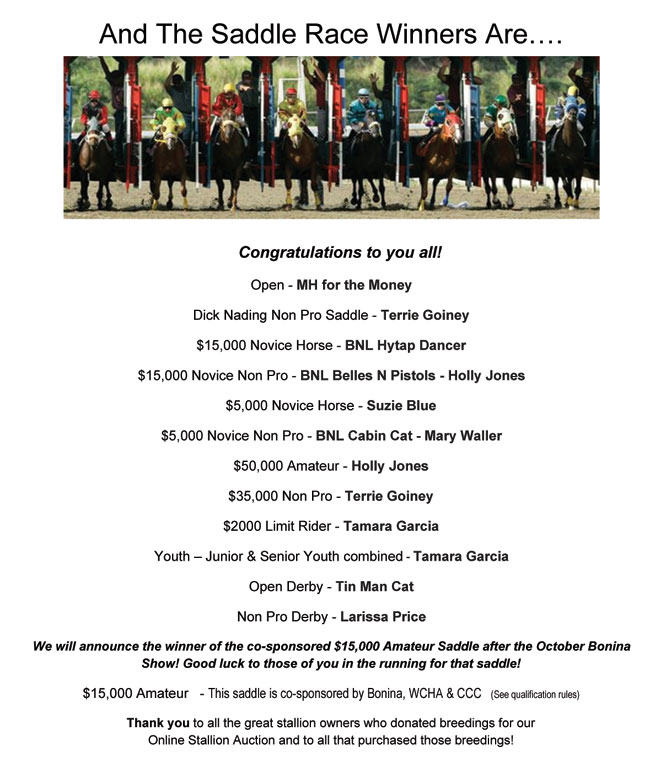 click for larger view.