Introducing Your 2016 Cascade Cow Cutters Officers and Board of Directors:
President - Brent Stewart
Vice President - Ross Hansen
Secretary - Amber Simon
Treasurer - Jane Roundtree
Board of Directors:
Jack Kitt
Nina Lundgren
Dan Wagner
Danny Ziebell
Megan Hunsaker
A very special Thank You to our most amazing Show Secretary, Sue Kitt!!! Sue keeps us on track and always heading in the right direction! We would all be lost with out this amazing lady! Thank You Sue!
---
News From The Board
Another great Cascade Cow Cutters show season is complete! What a great year! We would like to say a special Thank You to our 2015 President Holly Jones. Holly put her heart and soul into CCC this year and was the prime driving force behind the Saddle Race and Stallion Auction. Great job Holly!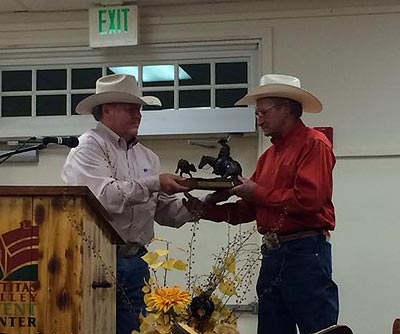 We would also like to recognize two awards that were given out this year that had some very special meaning to us all. As you know we lost one of our greatest long time members this year to cancer. Dick Nading was a fixture at all Cascade Cow Cutters events for as long as most of us can remember. We all miss seeing him out there and will never forget that wonderful, generous, truly great man. This year CCC was proud to award the Dick Nading Memorial Sportsmanship Award. This award represents the true sportsman whose conduct is always exemplary in the show pen and out. Fittingly, the member chosen to receive this award was none other than our own Jack Kitt. Dick's son-in-law and best friend. Jack is truly deserving of this award as one of the hardest working, best sports at CCC. Congratulations Jack! We are proud to have the honor to work with you in the great sport of cutting.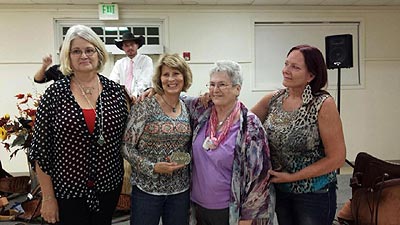 The second award was donated by Bev Nading in honor of Dick. Bev chose to donate the Non Pro Saddle this year. The Non Pro was Dick's class and he would be so proud of Bev's choice in continuing to promote this great class. The winner of the Dick Nading Non Pro saddle was Terrie Goiney. Congratulations Terrie on a job well done! Thank you all for being a part of our great organization. Our members are what makes this club great!
---
Cascade Cow Cutters (CCC) is an NCHA Affiliate, located in Washington State. We are an active, growing association. We hold 12 to 14 NCHA shows yearly. A fresh cattle practice is generally held in the show pen on Friday preceding the show and a string cow is available all weekend.

CCC offers the full array of NCHA classes with added money in several of the classes. Non-approved classes are offered for the beginning horses and riders; as well as limited aged classes.

Cascade Cow Cutters club atmosphere is always upbeat, family oriented, yet competitive in spirit. At year end, we host a fabulous banquet with terrific awards! Come join our fun and cut with the best of the Northwest! Looking forward to seeing you at Cascade Cow Cutters next show!
---
THANK YOU TO ALL THE STALLION OWNERS FOR YOUR GENEROUS DONATIONS TO OUR STALLION AUCTION.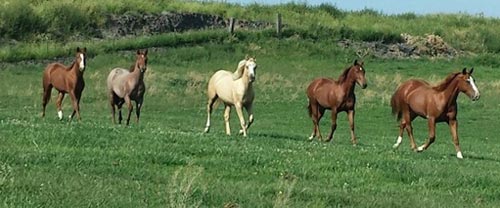 The Cascade Cow Cutters Stallion Auction is a fundraiser to provide an advertising venue for stallion owners, encourage breeding to cutting horses, stimulate cow cutting in the northwest and provide funds for awards.
Join our wonderful team
of sponsors!
Click here
to see all of our great sponsorship opportunities!
Come Cut With Us!!


Holiday Inn Express Ellensburg
(509) 962-9400
CLICK HERE FOR OUR SHOW SCHEDULE/ONLINE ENTRY FORM
PLEASE NOTE CLASS CHANGES! Be very careful when entering online that you choose the correct $15,000 class since there are now 3 of them.
Annual Awards Banquet
TRI TIP DONATED BY
Keith Pearce & Joy Le Tourneau
- and -
Don Blakemore, Merial Equine Feeds