Can't believe it's already the middle of May. The last month and a half has been a whirlwind of cutting!
Our May show was a great success! What a wonderful association we have! I sincerely thank each of you for taking the time and effort to come and cut! I also know I'm thankful every time I hear that cattle truck pull in. Fresh cattle are becoming such a luxury that we've taken for granted. Many parts of the country wish they were as lucky.
Unsung heroes... Sue Kitt, Dan and Rusanne Wagner - I can always count on them to tackle any task I ask! Sue always has our best interests at heart. Her warmth and love is spread to each and every one of us. Without her kindness this club would not have the same feel! Dan arrives a day earlier than the rest of us to make sure everything is set up correctly. He's one of the very last people to leave. If I have a project, Rusanne is always first to volunteer. (I'm so glad to see her in the show pen again!!!) Thank you for the effort, time and love you three give!
If you were not able to attend Western Nationals you missed a great show! NCHA ran an outstanding cutting! It was well attended by people from all over. Cattle were tough, judging was tight and classes were large. Congratulations to Olivia Kleinhaus for her fourth place finish in the Junior Youth on the great horse Starlights Fancy! Making finals was quite an accomplishment – Congratulations to: Josh Sleeman, Jason Schaper, Sydney Sylvester (11th out of 60 – her 1st time there!), April Douzart, Cindy Gobler, Haylee Sleeman, Kim Burck, Bodeen Sleeman, Emma Lanning, Megan Baker, Jennifer Whisler, Carol Kneeshaw, Judd Sherman, Dave Huber, Jennifer Sleeman and myself. A few of us were even fortunate enough to make top ten! Please encourage our area directors to continue fighting to keep Western Nationals close enough that we can still attend. It is a wonderful event that I encourage everyone to participate in.
NCHA/AQHA Weekend is coming soon. It might be a little ways to travel but we need to support these events! This is our industry, our sport. If cutting is your passion, Madras should be your venue. It's always good to compete in a larger show! Meet new friends, show in different arenas. There has been concern about quarantines, to date, this is not in effect. I will let you know if there is a change.
Oregon Cutting Horse Association has the entries on line now. Entries due May 25th! Madras does not have electrical hookups, so bring a generator. PCCHA is offering a youth scholarship this year. Total purse for SR. Youth is $1050 (1st $450, 2nd $350 and 3rd $250). JR. Youth total purse is $750 (1st $350, 2nd $250 and 3rd $150). Youth must be members of PCCHA ($20). They will also be giving away Joey Jemison Spur Straps for first and second place finishers! Top 3 youth from each division will be invited to the Latigo Canyon Youth Invitational in Paso Robles, Ca. (Tentative date: Oct. 25th)
Tacos Chalitos served some outstanding meals last weekend! Christian and Jenny Garcia are great cooks! I am so grateful that they will be feeding us. For those that aren't fond of "Mexican food"… theirs was very mild! I was even was daring enough to try the goat – which was so good!
In July, Christian was already booked for the 4th only, so our youth will be feeding us that day! Thank you to Michelle Carson who is heading up our youth! I was pleased to see the youth meeting was attended by quite a few family members as well. They are planning on some great things for our lunch! That night will be our annual potluck! Please plan to bring something to share with the group.
The Flag… Please remember that the monies generated from the flag practices are very important to the club! While we may have made enough to sponsor a saddle race, the club itself is still not on solid financial ground. It saddens me greatly when I see people come back from a flag practice and not bother to sign their names. This is your club. Honesty counts! Thank you to those who remember to have Sue add your flag practices to your show bill when settling out.
The board has made a couple new decisions…
Practices – We are having a problem getting people to the practice pen early. Sue and Dan are arriving at least an hour before anyone else gets there. This is very unfair to them. Start time will now be 8 am. Please remember that the judge arrives for a 1:00 show, so we need to be ready for him or her.
Next year's dates – We have had many requests to take our shows off family holidays. KVC wants me to set our dates now. Pending NCHA approval the 2016 dates for Ellensburg will be:
April 1-3, 2016
May 13-15, 2016
July 1-3 OR 8-10, 2016 (Depending on WCHA) This year is July 3-5, 2015!
Aug 5-7, 2016
Sept 16-18, 2016
This does not exclude the possibility of our approving other outside shows, nor does it include NCHA Weekend. These dates are only for the shows at Bloom.
If you have any thoughts or concerns, please feel free to contact me. Otherwise, see you in the cutting pen!

Holly Jones
holly@pocketinet.com
509-386-5979

"Each time I ride to the herd, I strive to beat the rider I was yesterday" Unknown author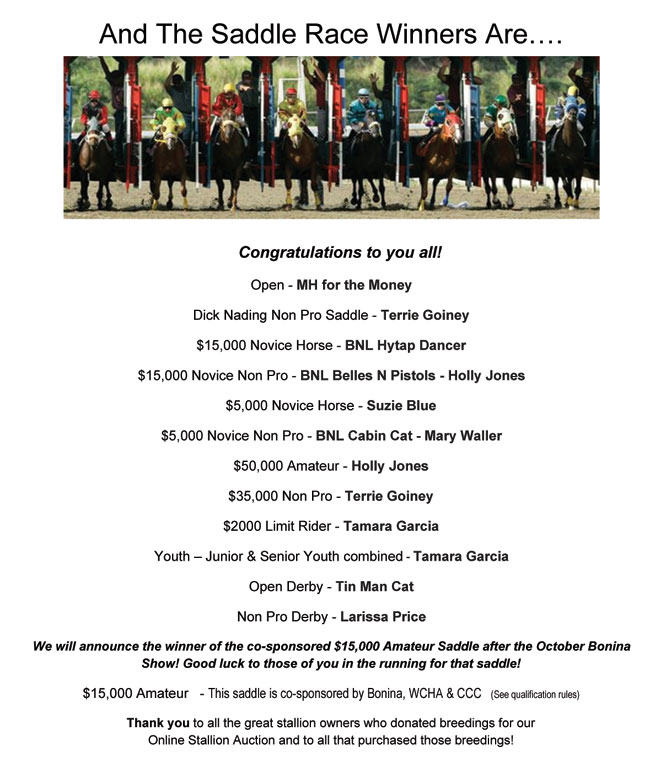 ---
THANK YOU TO ALL THE STALLION OWNERS FOR YOUR GENEROUS DONATIONS TO OUR STALLION AUCTION. There are only a few days left!! BID NOW!!!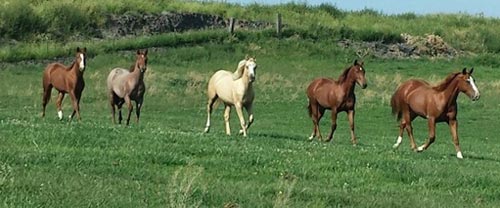 INTRODUCING OUR NEW ONLINE
Cascade Cow Cutters Stallion Auction
The Cascade Cow Cutters Stallion Auction is a fundraiser to provide an
advertising venue for stallion owners, encourage breeding to cutting horses, stimulate cow cutting in the northwest and provide funds for awards. We still have some stallion available to purchase until May 1.
Click here to view the stallions and to purchase!
---
CLICK HERE FOR OUR SHOW SCHEDULE/ONLINE ENTRY FORM
PLEASE NOTE CLASS CHANGES! Be very careful when entering online that you choose the correct $15,000 class since there are now 3 of them.
---
Cascade Cow Cutters (CCC) is an NCHA Affiliate, located in Washington State. We are an active, growing association. We hold 12 to 14 NCHA shows yearly. A fresh cattle practice is generally held in the show pen on Friday preceding the show and a string cow is available all weekend.

CCC offers the full array of NCHA classes with added money in several of the classes. Non-approved classes are offered for the beginning horses and riders; as well as limited aged classes.

Cascade Cow Cutters club atmosphere is always upbeat, family oriented, yet competitive in spirit. At year end, we host a fabulous banquet with terrific awards! Come join our fun and cut with the best of the Northwest! Looking forward to seeing you at Cascade Cow Cutters next show!