December, 2016

Dear Friends,
If you don't know about them already, I would like to introduce you to Cascade Cow Cutters! They are one of the most active, energetic, positive-thinking affiliates in the country. Its members are proud to be part of NCHA and many strive to be recognized in the World arena. In 2016, the Mercuria Open Champion in Calgary was a trainer who rides with Cascade Cow Cutters. 8 CCC members qualified and rode in the NCHA World Finals. 12 members won NCHA Senior World Tour buckles. And, the CCC secretary won the award for second highest Number of Senior Entries! Two members were named in the NCHA Rookie of the Year standings. 10 out of 12 Area 1 Champions rode with CCC.
2017 marks the third year for the CCC Stallion Auction. Their site generates tremendous interest with over 550,000 hits in 2016! We are proud to provide this exposure to the donors and their fine stallions. The online auction opens January 10th and ends February 19 at 8:00 pm CST.
If you attended The Futurity, you may have seen the eye-catching jackets touting the stallion auction that were given to series champions. This year, CCC hosted a shoot-out between series winners to determine saddles winners in each class.
New for 2017 is the Stallion Auction Incentive Fund. Like other LAE incentives, money will be added to the club's year-end Limited Age Event. There is an exciting new proceeds distribution created especially for weekenders! It is a fund for the horses SIRED BY STALLIONS IN THE AUCTION based on their total WEEKEND EARNINGS at year end! This will create added value and recognition for show horses after their aged event careers and encourage riders to purchase horses sired by the stallions in the CCC Auction.
Cascade Cow Cutters appreciates the stallion donations and the support by stallion owners. We hope to count on you to donate a stallion service to CCC and know that you are helping weekend and aged event cuttings thrive in the northwest!
Thank you so much!
Sincerely,
Nina Lundgren
Cascade Cow Cutters
Stallion Auction Chairman
509-539-3435, bonina@bonina.com
---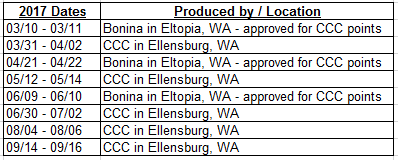 ---
Cascade Cow Cutters and it's members extend our sincere condolences to the family & friends of Barb McNally. She was a vibrant, competitive lady who will be missed by many.
CONGRATULATIONS to the 2016 Non-Pro Dick Nading Memorial saddle winner...Doug Wiens showing This Cats Max, owned by Doug & Angie.
Our thanks to Jody Radomske for resurrecting the CCC Kings Contest. That was so much fun! If you're interested in getting a copy of the video, Hitchiker Productions is making it available for $20. Please reach out to Aaron & Mandy at aaron@hitchikerproductions.com and they'll make sure you get one.
Thank you to those who helped tear down after the show (banners, tarps, arena panels, and the string cow): Kyle & Erin Eaton and Erin's mom & brother, Leah Slattery, Brent Stewart, Ross Hansen, Jeff Sleeman, Amber Simon, Tanner & Brande Fulfs, Duane & Jane Roundtree, Bruce Pinkerton, Jack Kitt, and Dan & Rusanne Wagner. Thank you, Bill Grady, for storing the arena panels under cover for the winter.
Congratulations to the saddle shootout winners. These saddles were made possible by the hard work of the stallion auction team (Nina Lundgren, Holly Jones, Janie Larson, Megan Hunsaker, Rusanne Wagner, & Jane Roundtree (I apologize if I missed anybody....your dedication is appreciated!).